zzz>>>>>>>>>>>>>>>>>>>>>>>>>>>> Prodibio
Who we are
Prodibio was founded in Lyon in January 1998. We design, develop, manufacture and sell ranges of freshwater and marine water aquarium and pond water treatment products.
Prodibio was bought out in May 2006 and transferred to Marseille and has been raising its international profile since then.
The company is continuing to grow with a constant increase in both its turnover and the number of industry players (including distributors, public aquariums and aquafarms) interested in its products, expertise and professionalism. Prodibio now generates 80% of its turnover from exports and its ranges are distributed worldwide.
The Prodibio team

Prodibio has strengthened all of its technical (a doctor of chemistry and a doctor of biochemistry), sales (an engineer with an international business MBA and a representative in France), admin (a finance and accounts manager and assistant) and logistics teams.
Our organisational structure enables us to keep innovating and developing ranges with new products for both new and experienced aquarium owners, strengthen our links with our current commercial partners and seek out new growth markets (new countries, large international public aquariums and aquaculture).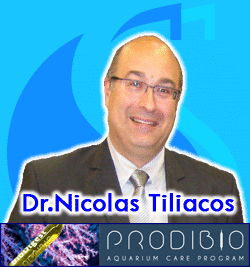 Prodibio News>>>>>